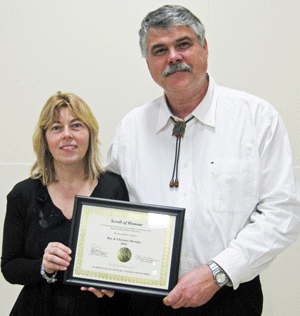 Ray and Christine were born and raised in the Vancouver area, have two children, and currently reside in Burnaby. They both started dancing at a young age and were members of a teen club where, as time went on, they won many prizes at the teen festival; and helped out as the caller, with the running of the club, and designing and sewing festival costumes, to name a few of their accomplishments. Ray called his first full dance at the age of thirteen and by sixteen was a caller for a youth square dance club (before he could even drive). He also won the senior calling level at the Pacific Northwest Teen Square Dance Festival for four consecutive years.
Ray called and taught for many years for the Wesburn Wranglers where he helped callers and round dancers, coached squares, wrote exhibitions, judged at teen festivals, wrote and called mysteries; and performed at demonstrations and parades, and recruited new dancers. He coached many top level callers, including Steve Edlund, Brent Mawdsley, Chris Knowles, Bryan Clark and Alison Hampton. Ray has promoted the teen festival to interested callers throughout North America.
He was encouraged to learn advanced and challenge dancing to fulfill a need in the community. Since 1986 he has called and taught Advanced at Chuckwagon 8's, Stardowners, and Motiv8tors, and also calls and teaches a C level group.
For many years he has donated his time for the Toys for Tots Dance which collected many toys and several thousand dollars for the Burnaby Christmas Bureau for the underprivileged children of Burnaby.
He has brought students from the school where he teaches to Wesburn Wranglers where he is currently the caller.
Ray and Christine have been on many committees over the years together or individually, including
Serving on the board of the Caller/Teachers Association.

Helping on the BC Ball committee.

Serving as Program Chairs for Convention 2000

Attending every Canadian National Convention from 1990 onwards.

Bringing in many callers, both national and international, to the Vancouver area

Organizing dances for Japanese, German & American dancers traveling to Canada

Making teach videos and tapes for the Vancouver School Board to be used byteachers to promote square dancing

Traveling theworld as ambassadors for the square dance movement
Currently Ray is calling for five clubs in the Lower Mainland, namely, Chuckwagon 8's, Stardowners, Motiv8ers, Ray C Ones, andWesburn Wranglers
Ray & Christine have encouraged their children to take up square dancing and round dancing and they have won several prizes in the teen festival.
It is an honour to present the 2010 Scroll of Honour to Ray & Christine Brendzy.